This was a project I managed, myself and ten other video editors worked on for a Super Bowl promotion for Gatorade. The edits were uploaded to the giphy.com platform.
We won a couple of awards for this promotion. Also below are just a few of my favorite ads from the campaign.
The Results
Giforade was a massive success. All of the following was a achieved with a very small media buy.
Over 200 branded GIFs created. Launched the day before the Super Bowl.
118 Million Views in a Single Day. (More than the Super Bowl itself)
Most views in a single day by a brand on Giphy ever.
From non-existent to a Top 10 Brand on giphy in a single day.
Nearly 80% of the views were earned organically.
Up to 420,000,000 views within 8 weeks of launch.
Awards
2018 Cannes Lions
Bronze Lion // Social & Influencer // Food & Drinks
Bronze Lion // Entertainment // Excellence in Audience Engagement or Distribution Strategy for Sports Entertainment
Shortlist (x6)
2018 Clio Awards
Gold CLIO // Direct // Social Media
Silver CLIO // Social Media // Single Platform Campaign
Bronze CLIO // Partnerships & Collaborations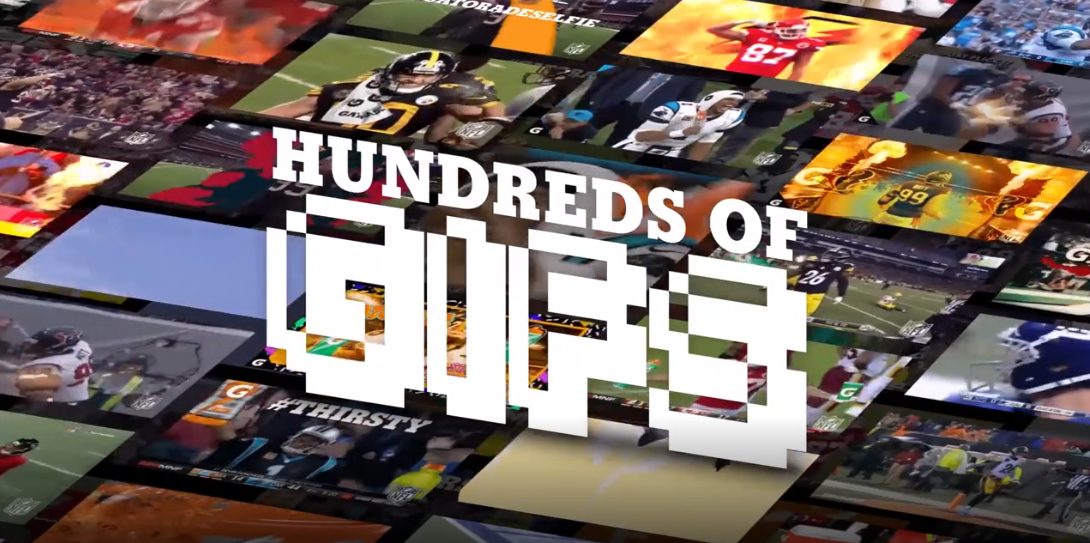 Awards
2018 Cannes Lions
Bronze Lion // Social & Influencer // Food & Drinks
Bronze Lion // Entertainment // Excellence in Audience Engagement or Distribution Strategy for Sports Entertainment
Shortlist (x6)
2018 Clio Awards
Gold CLIO // Direct // Social Media
Silver CLIO // Social Media // Single Platform Campaign
Bronze CLIO // Partnerships & Collaborations